Tiina Myllärinen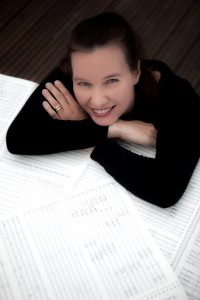 Tiina Myllärinen (b. 1979) writes music that has been described as cheerfully inquisitive, vigorous and original. She has composed orchestral, choral, chamber and solo works and experimented with electroacoustic music and video. Outside Finland works by her have been performed in the United States, Italy, England, Austria, Germany, Lithuania, Iceland and Norway. Among those who have commissioned works from her are the Pro Musica Foundation, the Helsinki Chamber Choir, the University of Helsinki, the Time of Music festival, the Uusinta ensemble, the Polytech Choir (PK) and the "ja kitara soi" guitar festival.
Tiina Myllärinen has recently developed an interest in the application and study of various acoustic phenomena, such as resonance, in her music. She is also working for an artistic doctorate at the Sibelius Academy on the subject. At the moment she is working with the support of a working grant from Koneen Säätiö.
Education
Doctoral studies in composition with Beat Furrer, Kunstuniversität Graz, spring 2016
Doctoral studies in composition with Veli-Matti Puumala and Jukka Tiensuu 2013-
MM, Sibelius-Academy, Helsinki, Finland, 2012
Masters studies in composition with Veli-Matti Puumala, Tapio Nevanlinna, Tapio Tuomela and Tapani Länsiö 2005-2012
Composition studies with Patrizio Marrone at S. Pietro a Majella, Naples, Italy
BA, Sibelius-Academy, Helsinki, Finland, 2003
Bachelor studies in classical guitar 1998-2003
Studies in the Royal Conservatoire of The Hague, Netherlands, 2001
Master Classes
José Maria Sánchez-Verdú (Sibelius-Academy) 2016
Mark Andre (Sibelius-Academy) 2014
Klaus Lang (UNM-festival, Reykjavik) 2012
Beat Furrer (Viitasaari) 2012
Jukka Tiensuu, Jouni Kaipainen (Sannäs) 2012
Wolfgang Rihm (Brücken-festival, Rostock) 2011
Sergei Newski (Viitasaari) 2011
Hanspeter Kyburz (Sibelius-Academy) 2010
Eivind Buene (UNM-festival, Helsinki) 2010
Brian Ferneyhough, Liza Lim, Hans Thomalla, Manos Tsangaris (Darmstadt International Summer Course) 2010
Magnus Lindberg, Esa-Pekka Salonen, Jukka Tiensuu (Sannäs) 2010
Niels Rosing-Show, Kent Olofsson, Ivar Frounberg, Rytis Mazulis (Druskininkai) 2010
Awards, Honors, Important grants
Grant from Koneen Säätiö for making and producing large inter-art, site-specific work Pinnan alla, 2021
Grant from Arts Promotion Centre Finland 2016 (3 years), 2013 (1 year)
Grants from Finnish cultural foundation 2015, 2012, 2011
Grant from Pro Musica foundation 2013
Grant from Martin Wegelius –foundation 2011
Publications
The Polytech Choir (Juha Kuivanen cond.) has made a recording of my piece Kaikki kuuluu värinä (PKCD23, 2013)
Fennica Gehrman has published pieces (Bad) Dreams come true (2022), Railo (2015), Traces (2014), Squarcio (2011), what? (2010) ja Three songs (2007).
My pieces have been recorded for radio in Finland (YLE) and Island (RÙV).
Most important commissions
Uusinta ensemble and Sea Lapland String Quartet–string quartet, fp. 2022
Helsinki university -conferment cantata for soprano, choir and chamber orchestra for the conferment ceremony at the faculty of philosophy, fp. May 2019
Helsinki Chamber Choir –piece for mixed choir, fp. Helsinki, February 2017
Pro Musica Foundation –piece for large symphony orchestra, fp. Musiikkitalo Helsinki, June 2014
Time of Music festival –piece for five percussionists, fp. Viitasaari, July 2011
The Polytech Choir –piece for male choir, fp. Helsinki, May 2010
Other recent commissions
Ja kitara soi -festival and Marja Nevankallio –piece for solo kantele, fp. Ja kitara soi -festival Lappeenranta, November 2019
Eeva Rysä -piece for solo cello, fp. Helsinki, September 2022
Superpluck-trio -piece for kantele, guitar and cembalo, fp. Okinawa, Japan December 2022
Akartia trio –piece for soprano, saxophone and accordeon, fp. Spain autumn 2023
Naiara De La Puente and Veli Kujala -piece for solo accordeon and video, fp. in Spain and Finland 2025
Kirsten Voss and Sonja Honkamaa -piece for soprano and piano, fp. 2026
Most important performances
Conferment Cantata – Meeri Pulakka, soprano, Academic Choral Society, Helsinki University Symphony Orchestra, Tomas Djupsjöbacka cond., Helsinki 24.5.2019
Kaikki kuuluu Värinä – Chamber Choir Värinä, Noora Hirn cond., 5-year anniversary concert, Helsinki 27.10.2018
Railo –Helsinki Chamber Choir, Nils Schweckendiek cond., Musica nova –festival, Kiasma theater, Helsinki 7.2.2017
Traces –piece for symphony orchestra, Pro Musica Foundation's orchestra, Atso Almila cond., Musiikkitalo, Helsinki 5.6.2014
Squarcio –CAPUT sinfonietta, Gudni Franzson cond., Northern Lights Hall, Harpa, Reykjavik, 1.9.2012
Squarcio –Ensemble der hmt Rostock, Konstantin Heuer cond., Rostock 21.11.2011
Flash –Osuma percussion quintet, Time of Music festival, Viitasaari, 9.7.2011
Kaikki kuuluu värinä –The Polytech Choir, Juha Kuivanen cond., 110-year anniversary concert, Helsinki, 22.5.2010
Other performances abroad

Summer Images -a piece for kantele, guitar and harpsichord, Superpluck-trio, tour in Japan (Okinawa, Aichi) 3.-5.12.2022
Three songs -Terhi Mastovaara, soprano, Plinio Fernandes, guitar, Kalle-Pekka Koponen, cello, Royal Academy of Music, London, England, May 2017
Hallan vaaraa, Terhi Mastovaara, sopraano ja Florence Awotula, mezzosoprano, Royal Academy of Music, London, England, May 2017
Resonance, Ensemble der Kunstuniversität Graz, Austria, 10.6.2016
Risonanza I –Ari Lehtonen, accordion, Hancock, United States, 26.9.2013
Puhallus – St. Christopher Woodwind Quintet, Druskininkai, Lithuania 29.5.2010
Three songs –Jutta Seppinen, mezzosoprano and Asamisimasa, Ung Nordisk Musik, Oslo 1.9.2008
Quattro piccolo pezzi drammatici –Valerio Starace, violin, Carmine Matino, viola, Gianpaolo Nigro, cello, Naples, Italy 13.6.2005
Other recent and upcoming performances
Pinnan alla -a large inter-art piece in Kerava together with poet Henriikka Tavi and scenographer Ia Ensterä, Our Festival, Kerava, 22.-25.7.2023
(Bad) Dreams come true for string quartet, Uusinta Ensemble, Oberstdorf Internationales festival forum für neue musik 25.3.2023
(Bad) Dreams come true for string quartet, Uusinta Ensemble, Musica Nova festival, 11.3.2023
(Bad) Dreams come true for string quartet, Uusinta Ensemble, Turku Guitar Festival, 25.11.2022
Morfo blu -a piece for solo cello, Eeva Rysä, Klang concert series, Helsinki 25.9.2022
Kaikki kuuluu Värinä -Värinä Chamber Choir, dir. Noora Hirn, Helsinki 13.11.2021
Risonanza V: La Preghiera -a solo for three kanteles, Marja Nevankallio, Ja kitara soi -festival, Lappeenranta 15.11.2019
Farewell – trio for violin, quartertoneaccordeon and two organs, Pasi Eerikäinen, Veli Kujala, Susanne Kujala, Ja kitara soi –festival, Lappeenranta 19.11.2017
Risonanza IV –piece for solo piano, Aura Go, Musiikkitalo Camerata-hall, Helsinki 19.5.2017
Risonanza II : play/off –piece for a guitarist, three videos and 8-channel electronics, Otto Tolonen and Alejandro Olarte, Kantakaupungin kitarakonsertit –concert series, Balder-hall, Helsinki 1.12. 2016
Risonanza II : play/off – piece for a guitarist, three videos and 8-channel electronics, Otto Tolonen and Alejandro Olarte, Ja kitara soi –festival, Kehruuhuone Lappeenranta 12.11.2016
Risonanza II : play/off – piece for a guitarist, three videos and 8-channel electronics, Otto Tolonen and Alejandro Olarte, Musiikkitalo Camerata-hall, Helsinki 20.5.2016
Three songs for mezzosoprano, guitar and cello, Nyky ensemble, Musiikkitalo Camerata-hall, Helsinki 18.3.2016
Two songs of Three songs for mezzosoprano, guitar and cello, Terhi Mastovaara, Orestis Willemen and Katariina Kolehmainen, WeW-festival, nursing home Wilen, Turku 6.2.2016
Song cycle with poems in Karelian language for soprano and percussion, Sanna Heikkinen, Mikael Heikkilä, Nurmeksen Joulumusiikki –concert series, Hannikainen-hall, Nurmes 30.12.2015
Farewell –trio for violin, quartertoneaccordeon and two organs, Pasi Eerikäinen, Veli Kujala, Susanne Kujala, Kallio Church, Helsinki 8.6.2015
Song cycle with poems in Karelian language for soprano and percussion, Sanna Heikkinen, Mikael Heikkilä, Carelia-hall, Joensuu 27.6.2014
Three songs for mezzosoprano, guitar and cello-Annika Fuhrmann, Jyrki Myllärinen, Markus Hohti, Ja kitara soi-festival, Lappeenranta 1.11.2013
Risonanza I –piece for solo accordeon, Ari Lehtonen, Musiikkitalo, Camerata-hall, Helsinki 11.4.2013            
Ballo in maschera –piece for cello and live-electronics, Defun Ensemble, ja kitara soi -festival, Lappeenranta, 28.10.2012
Bits and Pieces – miniature for string orchestra, Avanti! string orchestra, Dalia Stasevska cond., Grand, Porvoo 30.6.2012
Kaikki kuuluu värinä –The Polytech Choir, Juha Kuivanen cond., Tampere Biennale, Tampere-talo, 18.4.2012
Ballo in maschera – piece for cello and live-electronics, Defun Ensemble, Musiikkitalo Camerata-hall, Helsinki, 2.4.2012
Fantasy – solo piece for organ (version for pneumatic organ), Toni Pussinen, Musiikkitalo Organo-hall, Helsinki 26.1.2012
Fantasy – solo piece for organ (version for mechanical action organ), Susanne Kujala, Kallio church, Helsinki, 22.5.2011
Kaikki kuuluu värinä – The Polytech Choir, Juha Kuivanen cond., Sellosali, Espoo 11.5.2011
Hallan vaaraa – vocal duo, Sanna Heikkinen, Laura Vire, Ung Nordisk Musik festival, Helsinki, 20.9.2010              
Hallan vaaraa – vocal duo, Sanna Heikkinen, Laura Vire, Runokuu –festival, Helsinki 29.8.2010
Gagaku-music – miniature octet in Japanese theme, players of Avanti! chamber orchestra, Tuomas Hannikainen cond., Suvisoitto festival, Porvoo, 3.7.2010
what? – orchestral work, workshop concert with Finnish Radio Symphony Orchestra, Dmitri Slobodeniouk cond., Helsinki, 26.3.2010